Cataract is a next-level fully responsive premium theme developed to respond to the width of your users browser width.

Cataract includes several built-in features including a responsive slideshow and much more.

Cataract takes advantage of the web's latest technologies including a jQuery powered banner area & navigation.

Connecting with your guests is paramount which is why Cataract includes 46 built-in social icons.
HTML 5 and CSS 3 / Responsive Web Design / jQuery Library / Built-in Slideshow / Simple Fade Transition Slideshow / Smooth Sub Navigation (jQuery) / 46 Social Icons / Versatile Layout Options / 10 Header and Body Textures / Loads of Font Family Options / Loads of Color Options
* See Page Styles for a full list of Cataract's features and style options.
The following image is an example of the Cataract preview site being viewed on an iPhone.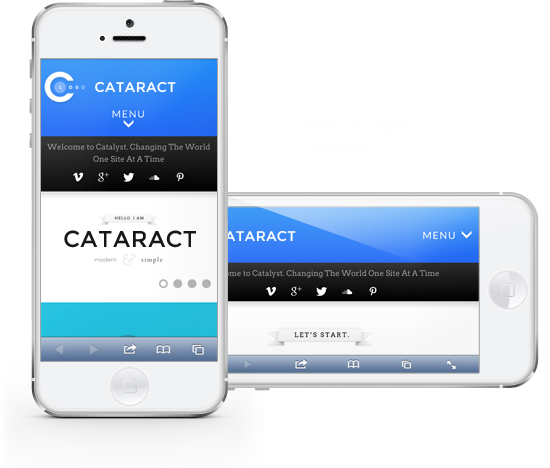 Versatile
With just the click of your button, allow Cataract to transform the look and layout you need for your next project.

Textures
Create eye catching projects by utilizing a number of different combination textures throughout your pages.

Browsers
Cataract supports the latest versions of Safari, Firefox, Google Chrome, Opera, Internet Explorer, Mobile Safari and Android.

Images
Banner/content images, and typographic images/icons are created in an image editing software and are not included in the purchase of Cataract.

Simple, Stylish, and Sleek
Cataract is a premium theme built for RapidWeaver® and designed to make your project look really good.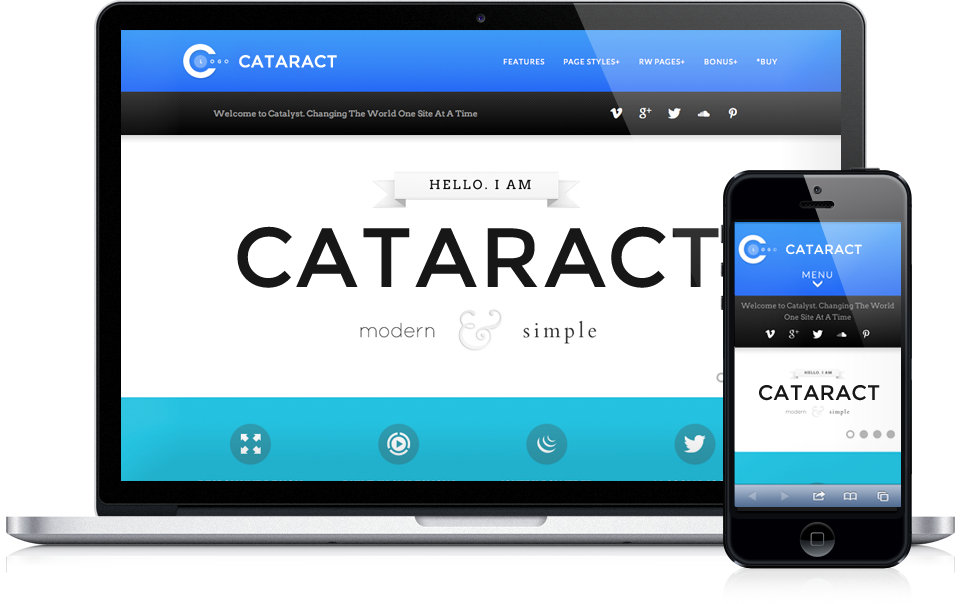 * Take advantage of Cataract' responsive nature by using Joe Workman's
Responsive Columns Stack to create column based layouts without code snippets as seen here.
** "Buy Now" Button generated separately and not included with the purchase of Cataract.
Connect with users by utilizing several of Cataract's 46 social icons as seen in the bottom header area and Extra Content 3 (just above). View a full list of included icons in the "Bonus" drop down area.