The Prelude theme is fully loaded with style, modern web elements and functionality. Take advantage of several features including a responsive design, 3 responsive slideshow effects, unique mobile menu and much more. Navigating your project with ease is the focal point of Prelude so your guests can focus more on your content. Choose between 3 types of positioned navigation along with a fixed navigation menu, or fixed navigation on scroll-up.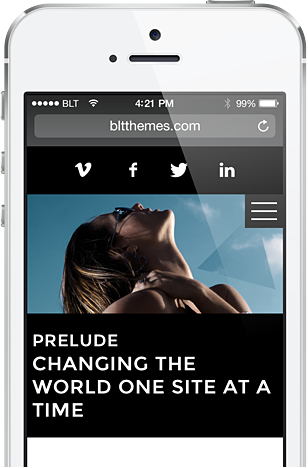 01
/
Unique 3 Option Menu
Prelude's most important aspect is the experience of your project's guests. Take advantage of an easy to use and unique navigation menu with the ability to stay fixed, become fixed on scroll up, or to stay right in its place.

The Prelude theme is fully loaded with style, modern web features and functionality. Enjoy the ability to fade your project title and slogan on scroll to give your site that much more polish in the user experience.



02
/
3 Built-In Slideshow
Prelude lends you more options with the built-in slideshow so you do not have to purchase any further plugins. Choose between 3 different slideshow effects including a horizontal slider, vertical slider, and fade option.

Social Icons & Font Awesome 4
Connect with guests using Prelude's 50 built in social icons and Font Awesome in your project area as seen in the icon images above.
Prelude comes with retina display ready features for those high resolution devices including the iPod/iPhone, iPad, and macBook Pro.
Several Font & Color Options
Prelude is the ultimate multi-purpose theme giving you tons of color and font selections to make your project that much more unique.
Prelude supports the latest versions of Safari, Firefox, Google Chrome, Opera, Internet Explorer, Mobile Safari and Android.
Making the web creation process that much easier. - Brandon