Lots of Options + Selections
Florence makes customization easy with tons of options to give you tremendous control over the look and feel of your website. With just the click of a button, you may change a number of elements and features in your project by utilizing the following possibilities found in your page inspector.
Real Time Sample Snippet Project Included
You may view Florence "Tutorials" pages to learn more about how to implement options & features as seen throughout the preview site and follow along with an included RW 6 sample snippet project so you can see the following snippets and features in real time.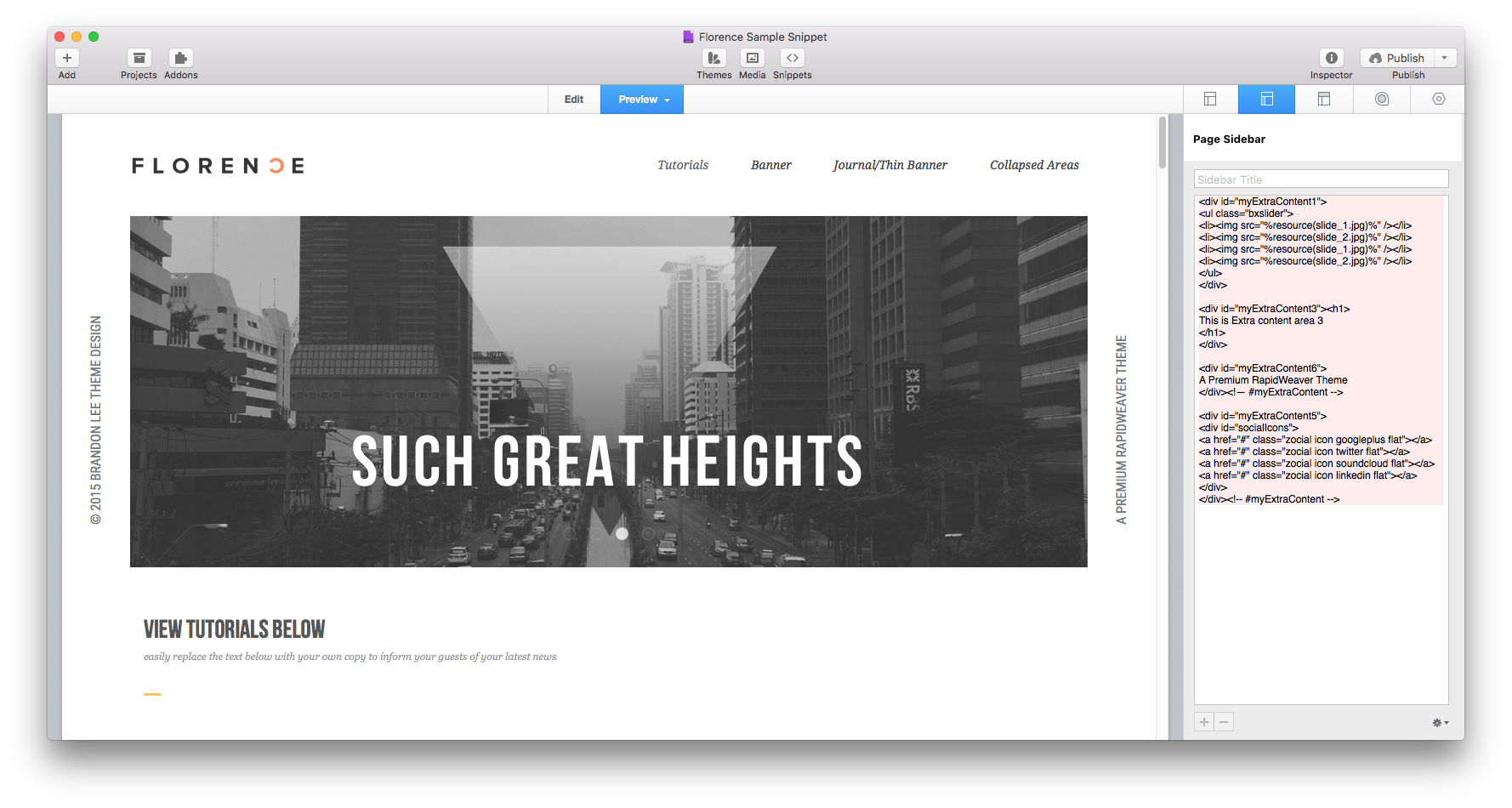 Collapse Banner
Static Image/3rd Party Plugin
Built-In Slideshow - Slider
Built-In Slideshow - Vertical Slider
Built-In Slideshow - Fade
12 px
13 px
14 px
15 px
16 px
Normal
Bold
Italic
Bold + Italic
Abel
Arial
Arvo
Bebas Neue
Droid Serif
Georgia
Helvetica
Josefin Sans
Lucida
Montserrat
Open Sans
Oswald
Palatino
PT Sans Narrow
Theano Didot
Verdana
Slogan Font Style/Toolbar Font Style
Subheading (Sides) Font Family
Abel
Arial
Arvo
Droid Serif
Georgia
Helvetica
Josefin Sans
Lato
Lucida
Montserrat
Open Sans
Oswald
Palatino
PT Sans Narrow
Roboto Condensed
Times
Verdana
Abel
Arial
Arvo
Droid Serif
Georgia
Helvetica
Josefin Sans
Lato
Lucida
Montserrat
Open Sans
Oswald
Palatino
PT Sans Narrow
Theano Didot
Verdana
Abel
Arial
Arvo
Droid Serif
Georgia
Helvetica
Montserrat
Noticia Text
Open Sans
Optima
Palatino
Raleway
Verdana
Abel
Arial
Arvo
Droid Serif
Georgia
Helvetica
Josefin Sans
Lato
Montserrat
Open Sans
Oswald
Palatino
PT Sans Narrow
Times
Verdana
Abel
Arial
Arvo
Bebas Neue
Droid Serif
Georgia
Helvetica
Josefin Sans
Lato
Lora
Lucida
Merriweather
Montserrat
Open Sans
Oswald
Palatino
Theano Didot
Times
Verdana
Arial
Georgia
Helvetica
Lato
Lucida
Open Sans
Palatino
Times
Verdana
Header Background
Content Background
Extra Content 2 Background
Extra Content 3 Background
Footer Background
Social Links
Social Links Hover
Title
Slogan
Toolbar
Toolbar Hover
Toolbar Current
Toolbar Subpage
Toolbar Subpage Background
Toolbar Subpage Hover
Slogan Background (Responsive)
Menu Button Background (Responsive)
Menu Button Text (Responsive)
Toolbar Background (Responsive)
Toolbar Links (Responsive)
Headings
Body Text
EC 2 Text
EC 3 Text
Project Sides Text
Body Content Links
Footer Text
Breadcrumb Link
Breadcrumb Link Hover
Footer Links